By Lotte Thomsen (Centre for Business and Development Studies, Copenhagen Business School) and Martin Hess (School of Environment and Development, University of Manchester)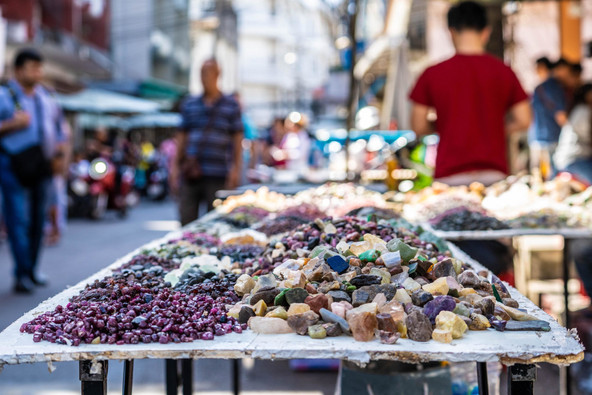 Did you also wonder why coloured gemstones, like rubies and emeralds, are 'back in the market'? And why they abruptly compete with diamonds, which were otherwise the most valuable and desirable stones since the early 1900s? Our joint effort to provide some answers to these (and other) questions so far led to a newly published paper in Economic Geography, which explores the connections between the rising popularity of coloured gemstones and a corporate re-focusing away from diamonds.
The image and value of diamonds was challenged and problematized since the 1990s when they became connected with a variety of sustainability challenges, not least with conflict in diamond supplier countries. In contrast, the social and environmental problems of the coloured gemstone industry have not yet been the focal point of similar scrutiny and intensive research. Rather, coloured gemstones are often branded as "sustainable". We show how the rising popularity and value of coloured gemstones is part of a "corporate escape" from known problems in the diamond sector.
Gemstones are highly connected to their "grounded" nature and geographical origination. "Geography" is therefore an essential aspect of gemstone and jewellery valuation, and "provenance" is often utilised as a marketing tool in the industry. However, using "origination" for branding purposes certainly works best when the places in which consumer products origin are perceived as "exotic and adventurous" rather than "problematic and unsustainable" by consumers. Gemstones frequently originate from "dark places", where sustainability challenges for mining communities, workers, and the environment are severe and manifold. Gemstones are also often unearthed where sourcing is considered unethical or even embargoed. Thus, the geographical origination of gemstones is potentially problematic for retail sales.
Corporations therefore increasingly turn to strategies and practices of "geographical dissociation" of places and matters that are damaging for retail sales and brand reputation. An inherent intransparency of the industry has become key to such processes of dissociation. Gemstone mining, processing, and trading takes place in overly complex and unregulated supply networks which connect with global value chains for gemstone and jewellery. Thus, coloured gemstones that enter into international markets commonly involve informal—and sometimes illicit—mining and trading practices.
You can read much more about the myriad of trading networks and global value chains for coloured gemstone and jewellery, by accessing our full paper:
Lotte Thomsen & Martin Hess (2021) Dialectics of Association and Dissociation: Spaces of Valuation, Trade, and Retail in the Gemstone and Jewelry Sector, Economic Geography. https://www.tandfonline.com/doi/full/10.1080/00130095.2021.1989302?src
References
Channel News Asia. 2018. Why coloured gemstones are so popular right now.
Ibert, O., Hess, M., Kleibert, J., Müller, F., and Power, D. 2019a. Geographies of dissociation: Value creation, 'dark' places, and 'missing' links. Dialogues in Human Geography 9 (1): 43–63.
Pike, A. 2015. Origination: The geographies of brands and branding. Oxford: Wiley.
Shortell, P., and Irwin, E. 2017. Governing the gemstone sector: Lessons from global experience. Natural Resource Governance Institute, September 19, 2017
Wright, C. 2004. Tackling conflict diamonds: The Kimberley Process certification scheme. International Peacekeeping 11 (4): 697–708.