From the NEPSUS Series by Stefano Ponte
Battling in the Rufiji Delta goes back to colonial times, when German cruiser SMS Königsberg and a group of British warships fought in the area during the First World War. The British ships were more powerful, but were unable to navigate the delta to open fire on the Königsberg and her supply ship Somali. Königsberg had also been covered by many green flags that looked exactly like the forest around the delta. The battle went on from October 1914 until March 1915 – by then, food supplies on the Königsberg had run low, and many crewmembers had died from malaria and other tropical diseases. The story goes that a captured British merchant ship called Rubens was given a Danish flag and German sailors who spoke Danish were selected to cruise out of the delta. While loaded with coal, field guns, ammunition, fresh water and supplies and navigating through the waters of East Africa, another British battleship HMS Hyacinth intercepted and set Rubens on fire (source).
This tale of the Rufiji delta reminds us of its wealth of forest and wildlife resources, which attracted local and Middle East traders even prior to the arrival of the German Company for Colonization (DOAG) in 1884. These traders had established contacts with professional hunters and timber trading companies from Europe, America and India who organized caravans to exchange clothes, beads, wire, guns and powder for copal, ivory, timber and rubber. Rufiji was a strategic location for commercial purposes on the Indian ocean coast. No wonder the Germans established their first hunting reserves at Muhoro and Kisaki area in 1912 to increase control of these resources. The two reserves were then merged in 1922 to create the Selous Sanctuary, which was later enlarged to become the world's largest game reserve of the contemporary time.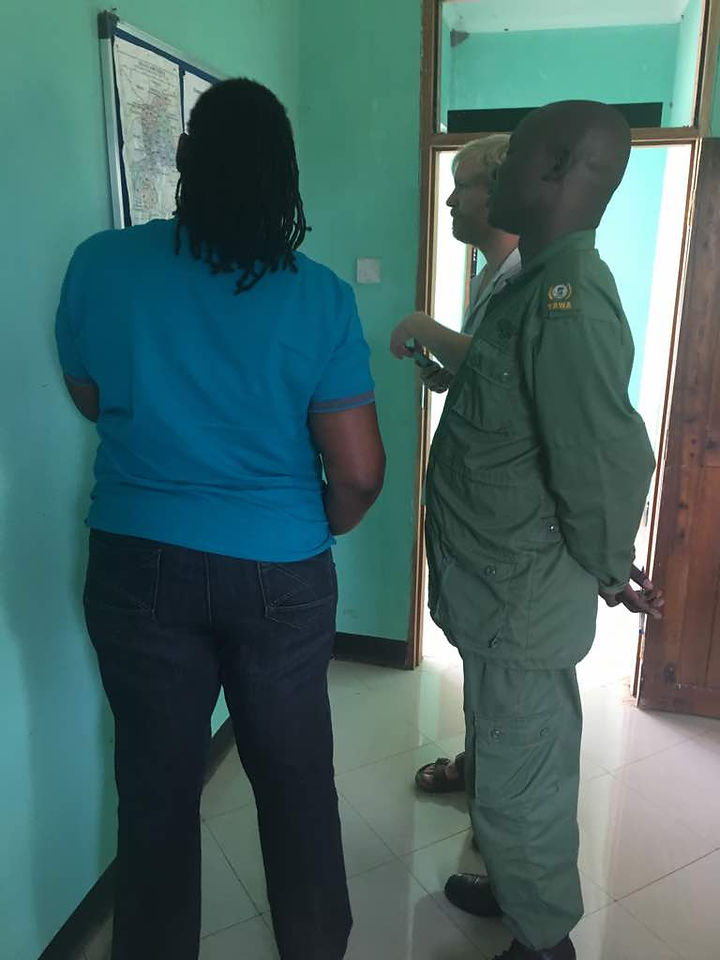 Access restrictions for local and commercial exploitations unintendedly triggered illegal connections that still sustain poaching today. The Selous ecosystem is still recognized internationally as an important source of ivory and, by implication, is one of the most significant poaching hotspots in Africa (WWF, 2016). Elephant numbers dropped from 70,000 in 2006 to 13,084 in 2013. Many international conservation NGOs report that the population of this charismatic and key species could disappear within six years if urgent measures are not taken against industrial-scale poaching. In 2014, the reserve was downgraded by UNESCO and listed in the World Heritage Properties in Danger, following the severity of elephant poaching – in addition to the ongoing uranium, oil and gas explorations inside the reserve.
Elsewhere in the vicinity of the reserve, illegal access to wildlife and forests by the surrounding villages (or through their assistance) continuo to supply timber and ivory into different distant markets. In fact, Rufiji (and its neighboring Kibiti and Ikwiriri towns) turned into a battlefield in 2016 up until mid-2017 following what is locally interpreted as reactions to the government's strict rules for access to natural resources. The local media zoomed into the area in the past two years hence confirming that there has been an emergence of a highly trained local militia that operated from the forests. Although the media does not make a direct link with poaching, the militia is said to be reacting to the continued restrictions on access and rights to natural resources. By mid-2017, the militia had executed 32 people, including 11 police officers and village leaders (The Citizen, 24th May 2017). This led to President Magufuli to deploy the People's Deference Force since March 2017.
Within the borders of the Selous game reserve, the government of Tanzania has been implementing directives set by different development and conservation partners on what needs to be done to protect elephants and retain the reserve in the list of world heritage sites. At its 36th session (on 24 June – 6 July 2012 in Saint Petersburg, Russian) and 37th sessions (on 16 – 27 June 2013 in Phnom Penh, Cambodia), UNESCO's World Heritage Commission decided to monitor the Selous reserve by setting conditions that the government of Tanzania must fulfill. These include: first, the formulation of a National Strategy to Combat Poaching and Illegal Wildlife Trade (launched in 2014); and second, the establishment of the Tanzania Wildlife Authority (TAWA) to address land use conflicts affecting wildlife outside protected areas, as well as to undertake law enforcement and curb the illegal offtake of wildlife resources (launched in 2016).
War against poaching is neither new nor is it restricted to Tanzania. What is new and important is that threats to wildlife have increased at the time when wildlife protection partnerships have also increased in number, type and complexity – stirring new research interest in them, including the NEPSUS research programme. Selous is a particularly interesting site for understanding the dynamics of conservation partnerships because of its history as a warzone – as contemporary efforts call upon different kinds of support for warfare facilities, technologies and intelligence. Military techniques, such as improved ground and aerial surveillance, led to the creation of new assemblages of local agents, international financial institutions and expatriates from all over the world.
Ground surveillance
TAWA has deployed new ways of improving ground surveillance, including military training of game officers and rangers, who receive formal army ranks. As illustrated below, the 'natural resource army' (Jeshi Usu la Maliasili in Kiswahili) is ready for work and will operate under the Tanzania People's Deference Force. There will be a unified chain of command and order giving it full authority to punish, sue and handle crimes – including 'shoot to kill' the poachers.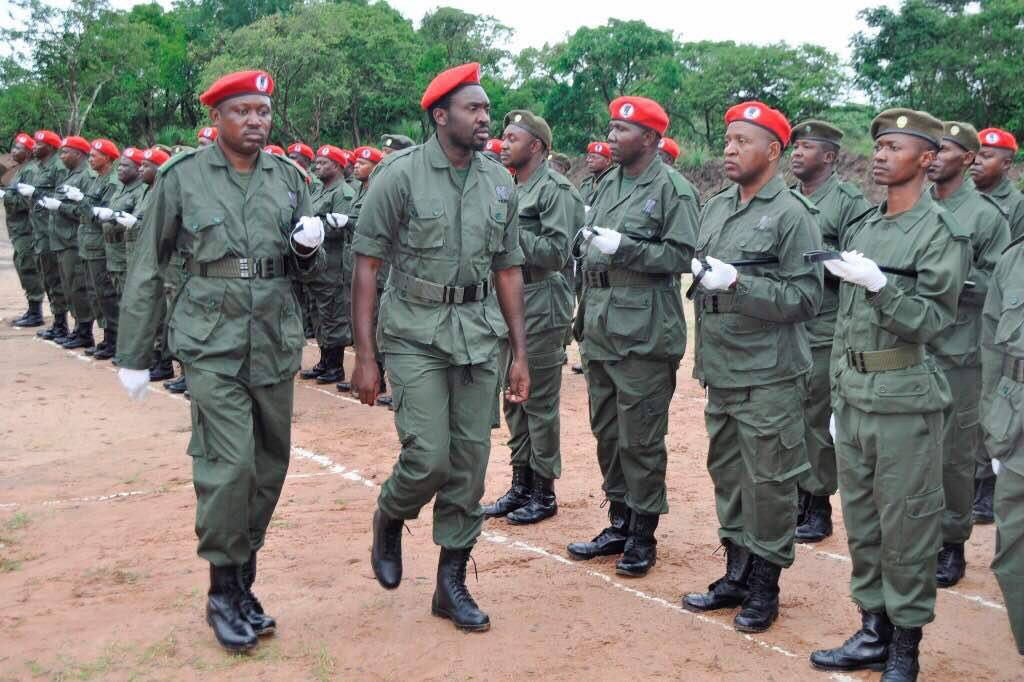 At the same time, in villages surrounding the Selous reserve, community-based conservation efforts have facilitated the training of Village Game Scouts (VGS) on effective control of illegal utilization of wildlife, including training on the use of arms and ammunition. These training sessions take place at the Community-Based Conservation Training Centre (CBCTC) in Likuyu village in southern Selous, which was established in 1995 specifically for this purpose. Upon being instructed and equipped, VGS are supposed to conduct patrols that lead to arresting poachers and confiscating their arms and ammunition. This has led to the creation of a large conservation army in local communities.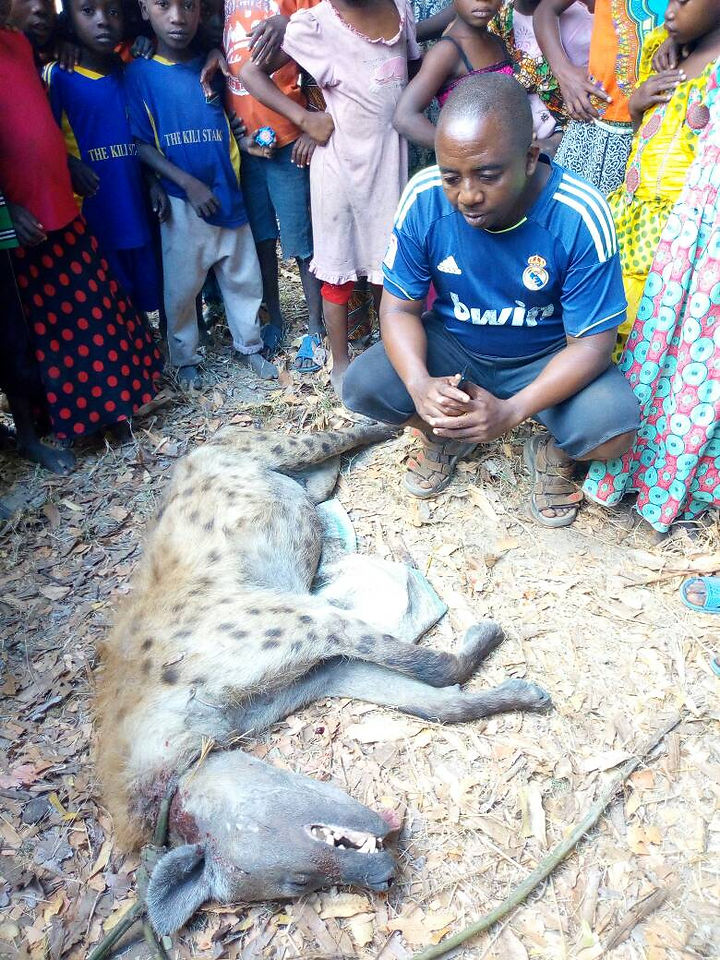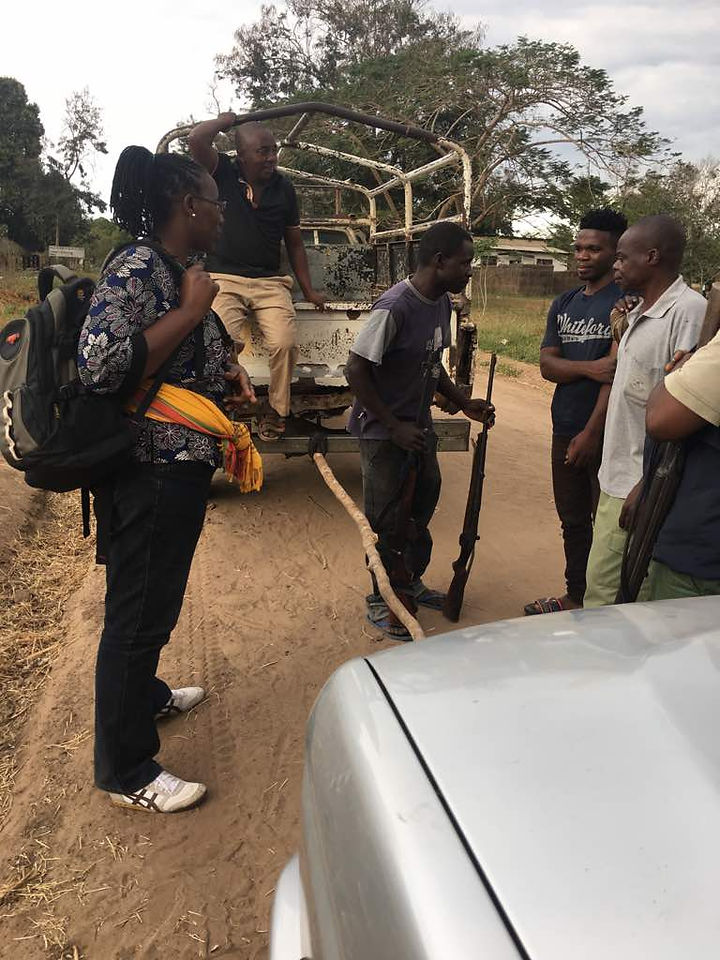 Recently, the Ministry also approved the use of 'community intelligence' as a form of partnership, with a budget set aside to facilitate what is locally understood as the work of 'askari vidole' (also known as 'wakushoto' or 'wasiri' depending on the location). These are not necessarily trained, and any villager who accepts the risk of being an informer for game rangers can carry out the task. While VGS protect wildlife against fellow villagers and outside poachers, askari vidole spy and report on anyone, including VGS. This creates tensions, as these informers get paid to facilitate arrests. Most of those arrested are actually people who are supposed to carry out wildlife protection, including the village leaders and VGS.
Aerial surveillance
Recently, WWF prepared a 'roadmap to zero poaching in Selous', which involves aerial surveillance through drones (Unmanned Aerial Vehicles, UAVs). This requires new thinking and forms of cooperation between many different partners. 18 drones have been donated for the protection of Tanzania elephants. Smartplane-Sweden is responsible for training drone pilots, while WWF and the PAMS Foundation have focussed on training VGS who are based in the Wildlife Management Areas around the reserve and in wildlife corridors. WWF will also equip game rangers with the necessary gear and place collars on elephants with radio tracking devices providing real-time location data to rangers.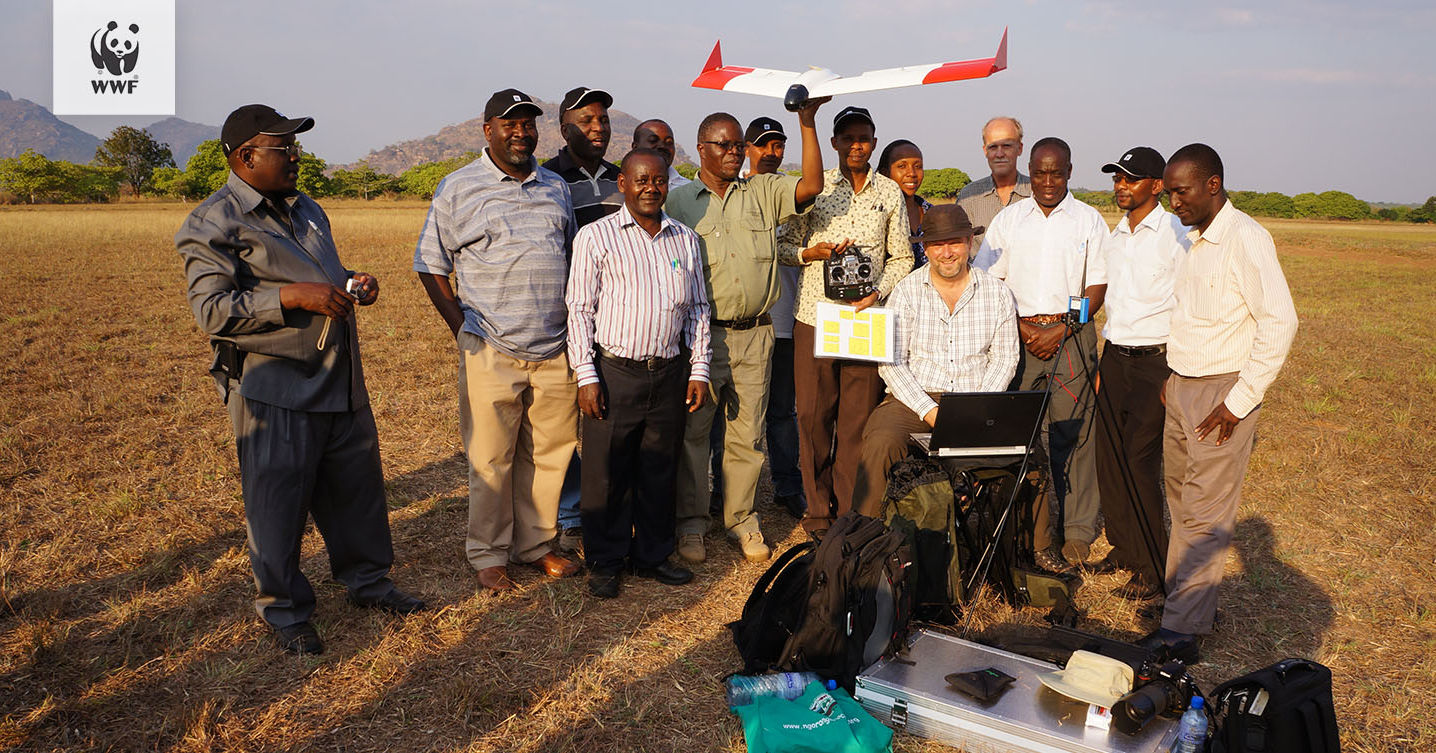 Although drones have been criticised for possible negative social implications, they are in line with a new focus on intelligence-based anti-poaching efforts and are complementary with the deployment of on-ground rangers and heavy equipment. WWF is also partnering with the Frankfurt Zoological Society (FZS), Tanzanian Wildlife Authority (TAWA) and Selous Management to ensure that skilled people, geo-referenced maps, stand-by vehicles and financial backing are available in the war against poaching.
[We are) using a small helicopter to chase a group of hungry elephants off a farm and into the park, all before angry farmers kill the animals, raptors attack the helicopter, or the chopper's fuel runs out. It might sound like fun but for conservationists in Tanzania, this isn't just a game [but war]

(Source: Goldbaum, C. 2015, Watch how drones keep elephants away from danger in Tanzania. Quartz Africa, 18 July. https://www.worldwildlife.org/projects/road-map-to-zero-poaching-in-selous accessed in November 11, 2017)
Is the use of this technology in conservation evidence of the failure of community-based conservation as a form of partnership? Are we witnessing a paradigm shift from bottom-up conservation back to top-down efforts? Is Rufiji again becoming an important war site? Current research carried out by the NEPSUS project will examine this apparent return to conservation militarization and its consequences.
Sources
Crabtree, W. 1914. German colonies in Africa. Journal of the Royal African Society, 14, 1-14.
Environmental Investigation Agency (2014): Vanishing point: criminality, corruption and the devastation of Tanzania's elephants. London
Gißibl, B. 2006. German colonialism and the beginning of international wildlife preservation in Africa. GHI Bulletin, 3, 121-142.
Mamdani, M., 2003. Making sense of political violence in postcolonial Africa. In War And Peace In The 20th Century And Beyond (pp. 71-99).
Tomolya, J. and White, L.D., 2015. Complex conflict dynamics in Mali. Terrorist Threats in North Africa from a NATO Perspective, 124, p.40.
WWF, 2016. Saving Selous. WWF, Gland
WWF, 2017. Towards zero poaching: WWF TCO trains drones handlers to help in protection of Tanzania's Game Reserves.