From the NEPSUS Series by Stefano Ponte
In Tanzania, it is not very common to criticize the government and their conservation measures. Although the visibility of developmental progress in rural areas is very limited, local villagers continuously emphasize their deep gratitude for the progress seen. They generally consider wildlife a marvelous resource, but respectfully ask for more protection from depredations. Loss of harvest can impose a serious threat on villagers' livelihoods and is the reason why local communities perceive wildlife to be a double-edged sword.
Furthermore, being adjacent to wildlife does not mean you can easily benefit from any advantages it could bring, e.g. revenues from tourism. Moreover, if villagers encounter wild animals on their farm, even if they are damaging the crops, they are not allowed to hunt them down or kill them. Meat is a very rare component of villagers' diets. If you see people eating fish, you must also start thinking of the risk imposed on the fishers. Fishing often entails trespassing the reserve boundaries, which can lead to violent attacks by conservationists. Any trespasser is considered a poacher, which is the reason why there have been reports of fatalities caused by game officers opening fire on trespassers.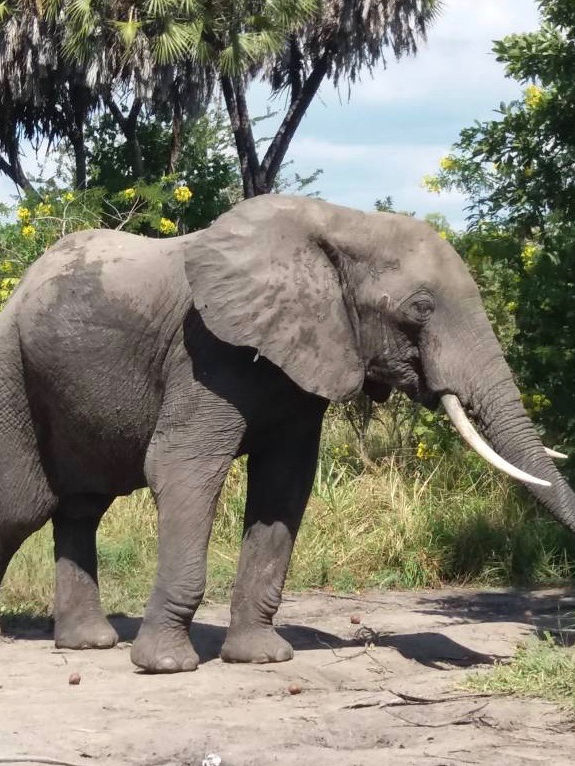 In interviews carried out during fieldwork, we discovered crop damage due to wildlife to be very significant. Villagers complained that almost 50% of harvest is destroyed by wild animals, including mostly elephants, buffalos, monkeys and wild pigs. One of the farmers lamented that she invests a lot of resources in agriculture that result to be squandered. Moreover, she noted that wild animals destroying fields cause annual food shortages and hunger among local communities.
How do they cope with this challenge? Researching in the area, I was shocked to find out that it takes several days to deal with incidents of wildlife crop damage. Among other factors this may be the result of an extensive bureaucratic process for reporting wildlife crop damage. The farmer affected by an animal invasion first has to write a letter to the village government, which then assesses the damage taking into account the evidence presented. It forwards the matter to the District Game Officer (DGO) who takes action to scare away the animals from the farm. In case the distance is too large, the DGO often asks game officers near the village to support the mission.
The villages in which we conducted research had already established Wildlife Management Areas (WMAs). WMAs are designed to mitigate the negative impacts of wildlife on communities and should enable them to generate income by leasing parts of their land to photographic tourism. However, this idea has not always been implemented successfully. For instance, one of the WMAs has been struggling with an investor dispute for five years and only recently started to generate income after resolving the conflict. The other WMA still leaves much to be desired. For the past decade it has not once generated income and the community perceives it as a waste of time and resources. They feel like their land should be recovered.
Incidents of villagers being killed by animals, typically elephants, are an even worse threat. This appeared more present to me when a woman was killed just one day after we had left the village. Unfortunately, these killings are very common. Local communities reported that over 40 peoples' lives were taken by wild animals during the past year.
For these villages, depredations and killings through wildlife outweigh advantages generated through conservation. Although stories about benefits for communities being adjacent to wildlife conservation areas are preached very often, reality leaves much to be desired. Real life human/crop-wildlife interaction results in conflict and villagers adjacent to wildlife reserves seem to lack significant benefits from the resource.
The establishment of WMAs has connected people closely with the country's resources. However, continuous conflicts, missing benefits and extensive bureaucracy, just to name a few issues surrounding WMAs, have taken over. This leads to the perception of local communities that their property was taken away and given into the hands of a few. Although the benefit from the resource is shared between the state and the adjacent villages, the principle of local ownership is far from being realized. Despite significant investments for tourism, there is no manifestation of harmony between village and wildlife. It is not sufficient to apply the concept of community participation only through establishing WMAs and distributing the benefits. There should be more emphasis on creating a sense of ownership of the resource on behalf of the community. This requires effort to further support and improve WMA management by curbing challenges related to crop damages and human killings, as well as violence by game officers against villagers.